Hello lovelies!
So tonight I thought I would share a little DIY I did inspired by the amazing box clutches from Zara and Ivania Carpio from LOVE AESTHETICS see her original post click here.
Photo from LOVE AESTHETICS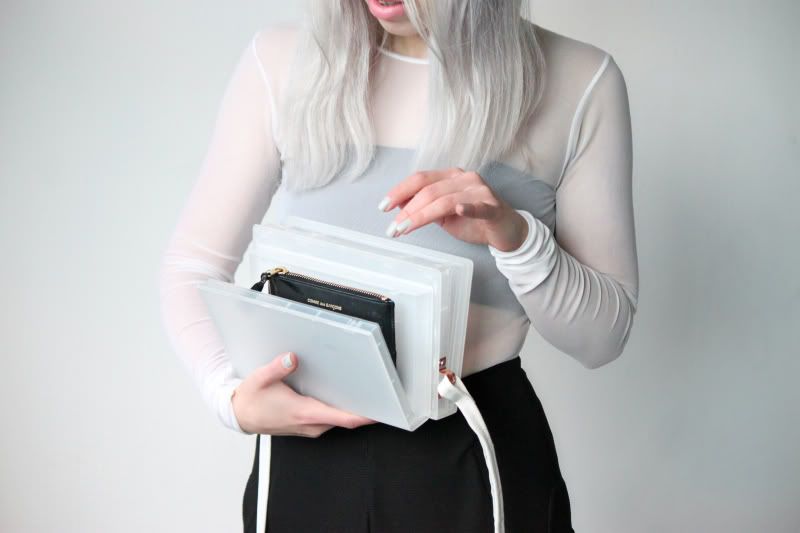 I found this bag in a charity shop for £2 which I thought was quite steep considering the unconventional colour, I thought they would be giving it away. It is a weird sulfur yellow/lime green colour but I was instantly drawn to it, and thought I would make an American Apparel style slouchy pouch.
But I then remembered the Zara clutches I saw online and Ivania's DIY and I had to try and make a box clutch from a old video casette case. Here's how I did it:
Get your video case (charity shops are practically giving these away at the moment because no one uses them anymore, mine was 10p); Take out the paper sleeve thingy and rip of the plastic (so satisfying). Mine was Philadelphia. Anyone seen it? No me neither.
Unpick the seams of the bag so you have nice flat pieces of fabric to work with.
Open the video out flat, lay it onto the wrong side of the fabric and draw round it, adding a 5 mm border for folding in the edges. Cut out- remember its better to make it too big than too small!
Whack out the glue gun and get sticking. This was tricky with my fabric because it was that really thin stretchy fake leather. Very annoying and it was tricky to get it flat and tight, but we got there in the end.
I went all the way around the case and then folded in the edges. This was the hard bit and it did get quite untidy, and I did burn my fingers many times!
Because the edges were really messy I decided to stick on a contrasting black and gold zip from an old top around the middle to cover the edges. I cut it to size and then glued that on top. I then cut the matching pull thing (?) from the zip and glued that onto the gold zip to tie it all in together.






I took it out that night and wore it with black leather panel knicker shorts from River Island, a black top and a kimono from Primark. I thought it added a nice colour pop which was what I wanted!
Even though it was really tricky at some times it did turn out ok and I would definitely use video cassettes again to make clutches. I got lots of compliments on it and actually in my drunken state I surprisingly didn't tip it all my stuff out of it (it has been known). I think its just because of the fabric I chose that it was tricky. It was just the right size for my purse, lipstick and phone.
Here's a pic of me and some friends enjoying the bright lights of Ipswich... or not. Really awful photo, but the flash showed the bag's colour well!
Thanks for taking the time to read this!
Happy Easter!
Oh and you can now :
Love Marnie xxx